I was moved to write this article when I saw Paul Levy's recent announcement that he plans to leave his position as CEO of Philadelphia's Center City District (CCD) at the end of 2023. Paul has been leading CCD, the downtown Business Improvement District (BID), since its formation in 1991. He will be handing the reins to Prema Gupta in December, although he will continue on as a transition advisor for another year.
During Paul's 30-year tenure, and largely because of his leadership, Philadelphia's Center City has been utterly transformed.
One of the central pillars of CCD's work to revitalize downtown has been to improve and activate Center City's public realm, and I cannot think of another place management organization that has been as successful in doing so. CCD believed that placemaking would attract more visitors to stay downtown later in the day, and would help lead a renaissance of downtown living. They were right.
CCD is responsible for the redesign and ongoing management of four downtown parks. They can all be walked in about 10 minutes – an engaging and fun journey that takes you from City Hall to Logan Square. From there you can walk the magnificent Ben Franklin Parkway, a long-term project of CCD that has restored and activated this monumental streetscape that leads to the Philadelphia Museum of Art.
Paul took me for a walking tour a few years ago and related to me the influence that the work of Holly Whyte and Project for Public Spaces had on him. He was fluent in the concepts of placemaking and pointed out examples of how CCD had applied them in park design. Here's my virtual tour of some of these parks, with an exhortation that you make sure to visit them next time you're near.
Sister Cities Park: the Tiny House of Parks. It is hard to say which of the Center City parks is most remarkable because all of them perform superbly in their own way. But I have a favorite, and it is Sister Cities Park. This park is tucked away and, at roughly a tenth of an acre, it's the tiny house of parks.
But this park is a whole world in miniature: a tiny beach and wading pool are fronted by a small café and backed by a constructed hillside with a cascading stream and topped by a trampoline. Those are the elements. It superbly demonstrates the concept of triangulation – the clustering of elements and activities to create synergy and energy. It also proves the point that both kids and adults need to be entertained in the same place in order to keep everyone happy. Too many play areas are created with only children in mind, which bores the parents and cuts short the dwell time. Sister Cities Park solves this by creating a habitat that exceeds the expectations of people of all ages.
Cret Park: an Urbane Sanctuary. Cret Park is a downtown rest stop for lunch or a coffee in a beautifully landscaped oasis. It offers a peaceful place to listen to a jazz combo or contemplate the sculptures by Henry Moore, Alexander Calder, and Jacob Lipkin.
Love Park: Instagram Central. John F. Kennedy Plaza, aka LOVE Park, is a popular little plaza where visitors line up for a photo in front of Robert Indiana's famous LOVE sculpture, which for decades had been stranded on a little traffic island. There's a good chance you will see marriage ceremonies happening under the LOVE sculpture and couples actually register to do so weeks in advance. The park also gets a lot of love for its "I Heart Philly" sculpture. This park is the only one in this profile that is not managed and built by CCD, but I have to mention it because it blends together with the other spaces into one walking experience.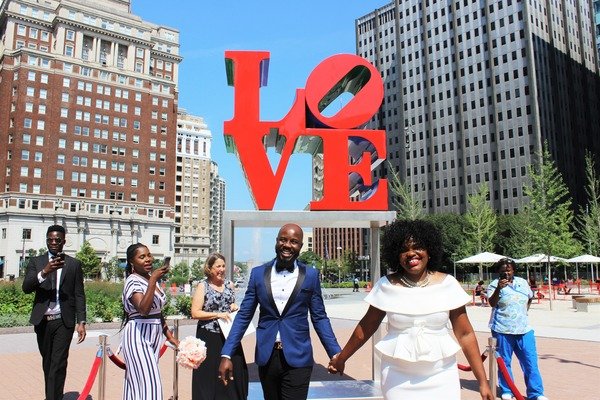 Dilworth Park: Reclaiming a Central Square. In William Penn's original plan, a central square was meant to be the city's main gathering space. But this idea was lost to history until it was finally restored in a gorgeous renovation that does justice to Philly's impressive City Hall. The centerpiece is a huge play fountain that attracts people from every background. It has become an important place for families living in downtown neighborhoods who lack quality parks. It also has a high-end finish that would please any business executive based in Center City. Besides the splash fountain, Dilworth Park offers a café, tree grove, live music, movies, and festivals. There is ice skating all winter long and an extensive holiday light festival. The massive reconstruction project also fixed a tortured pedestrian experience in which subway riders had to wriggle their way through multiple levels of concrete to get up and out to the street.
Thirty Years of Place Management
It's hard for younger practitioners to understand the monumental task that Paul and his generation of downtown advocates had in front of them when the first downtown BIDs were formed in the 1980s. It's no exaggeration to say that we owe our inheritance of vibrant downtowns in large part to these pioneers.
Like so many other American downtowns, back in the 1990s Center City Philadelphia was a ghost town after 5 pm. The place was mainly an office district and much of it was built following the worst of mid-century trends, with no ground floor activators and large building setbacks with concrete plazas. Few people lived there. CCD was a client of mine in the early 2000s when Project for Public Spaces was hired to make recommendations for several downtown public spaces: I remember learning about the five original squares bequeathed to the city by William Penn as part of his "Greene Country Towne."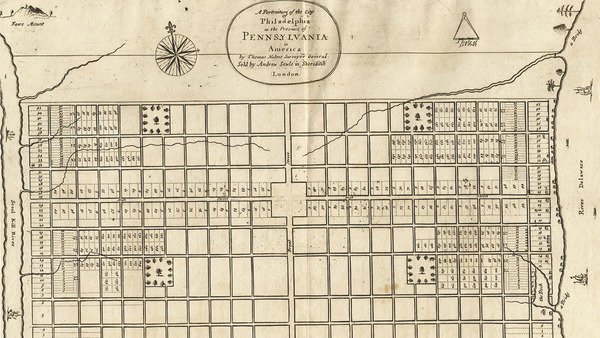 But what I remember most from those days 20 years ago is gray concrete plazas, empty lawns in bad repair, and a feeling that I was fortunate to be living in New York and not Philly.
That was then…. By contrast, for many years now New Yorkers now are flocking to Philly to take advantage of lower rents and a thriving small city with a great downtown scene.
All this is to say that Philly has built a critical mass of exceptional and active public spaces downtown that has helped them move Center City into a new era. During the last two decades, Greater Center City has become the fastest-growing residential section of the whole region, with a population increase of 38%. Philly now has the third-largest downtown residential population in the country.
A lot of people feared that Center City would not recover from COVID-19: that the vacancies would become endemic and visitors would be deterred in a potentially permanent way. In 2020 these public space attractions became a lifeline for downtown's economy and its residents, since the public spaces provided that safe place that continued to draw people to Center City. And by late 2022, pedestrian counts were at 76% of pre-pandemic levels and the rate of open restaurants and retailers reached 80%.
Not all this can be attributed to its compelling public spaces, but Philadelphia has made an enduring investment that will continue to anchor downtown's economy and residential quality of life – and that is something we all can learn from. Congrats Paul, and good job leaving things to Prema – your parks will be in very good hands!