I always believed in getting the most bang for the buck (doesn't everyone?). But if you look at how cities and towns spend money on infrastructure, it's like money is no object.
I'm thinking of traditional infrastructure spending – the kind which is under much debate currently in Washington. The kind that gets divided up into buckets like public transit, ports and waterways, flood projects, and the perennial favorite "roads and bridges," the mantra that is said over and over whenever an infrastructure bill is being considered.

It seems like such a dated concept – shouldn't we be way beyond this one-dimensional approach to investing public money? As my friend Gary Toth often says about roads and highways, "The era of single-purpose public investment is over." Well, it should be anyway.
To my mind, and many others, every dollar a community invests in infrastructure should be spent with multiple outcomes in mind. Any other way of spending is not only too expensive, but will likely create the kinds of problems that were created when we paid exclusive attention to solving traffic problems simply by building new roads. Or solving flooding by building dams. These approaches didn't solve the problems – they only made them worse.
Those infrastructure dollars are some of the biggest investments many towns ever see. Why would we spend them with only a single outcome in mind? That money can be spent for multiple outcomes, and not only with greater efficiency, but creating more value in the process.
Case in point: the Indianapolis Cultural Trail, which was conceived as a way to connect and promote the city's cultural assets downtown. With that core mission in mind, the Central Indiana Community Foundation (CICF) then worked through how it could achieve that, while also achieving (drumroll…):
Six Outcomes, One Project:
1. A vastly safer, more accessible bike and pedestrian environment, in a downtown that had always prioritized cars.
2. Visual beautification through landscaping, public art, and paving treatments that made an aesthetic transformation and drew private investment.
3. Five acres of new linear park space connecting destinations and natural areas with permeable landscape.
4. Stormwater management, through 25,000 square feet of beautiful stormwater planters built into the trail, which minimized the need for sewers.
5. Overall the creation of a distinctive attraction for downtown that would attract visitors and investment, in addition to serving all those frequenting downtown.
6. And….you guessed it, a massive return on investment! Downtown boomed all around the Cultural Trail with increases in retail activity, retail employment, and new development worth an additional $1 billion in property values by 2015, the most recent study I could find.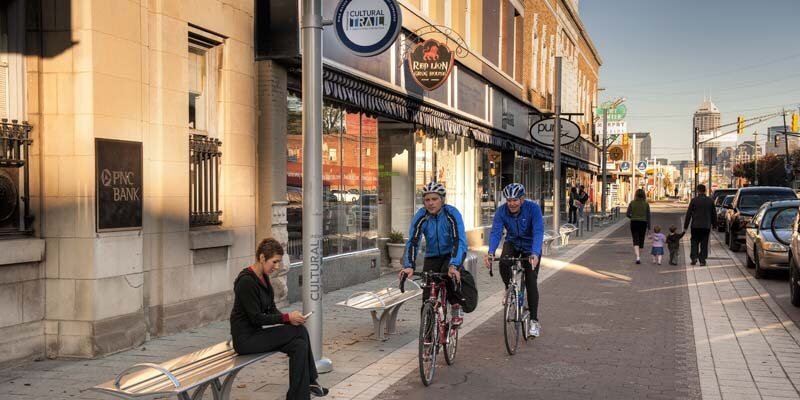 Check out this short video that gives you a good sense of what Indy accomplished here: https://youtu.be/F4ykv0yrLWI
The missing piece here of course was an equity framework, which could have made this an even better project, and which the Trail's creators have widely acknowledged. In fact, the CICF has since turned its funding almost wholly to working with neighborhoods, somewhat in reaction to the fact that the trail created so much value downtown, but brought fewer direct benefits to working people in the rest of the city. According to Pamela Ross, vice president of opportunity, equity, and inclusion at CICF, "As a community foundation, it's really important for us to make sure that neighborhoods all across Marion County have an opportunity to have sidewalks, to have safety, to have beautification in their neighborhoods that really represent the faces and the people in those neighborhoods."
How we spend our next millions, billions, or trillions on infrastructure should be a pressing question that revolves around community outcomes:
Are we improving our sense of place?
Are we improving health outcomes?
Does it improve the environment and address climate change?
Does it support our local economy?
Overall, are we bringing inclusive benefits to all our citizens?
Are we building relationships with residents and allowing them to influence our decisions?
One hundred years after Tulsa, and facing imminent threats from climate change, this kind of multiple-outcome planning is mandatory.
One thing is worth remembering though: a central tenet of placemaking is critical mass around sites that have catalytic potential. How we define catalytic constantly changes with our deepening understanding of our culture, the effects of structural racism, economics, and many other factors, but we don't want to dilute our impact by spreading investments too thin.
If you know of other great examples of projects that got creative in achieving multiple outcomes, please share!
And don't forget that the Walk Bike Places conference is in Indianapolis (and online) June 15-18!