I visited the University of Texas, Austin recently, and was elated to see how alive and abundant campus life was, centered on a fairly new campus space, the Speedway Mall. It's a great example of campus placemaking, and captures the spirit of campus life that so many other campuses aspire to.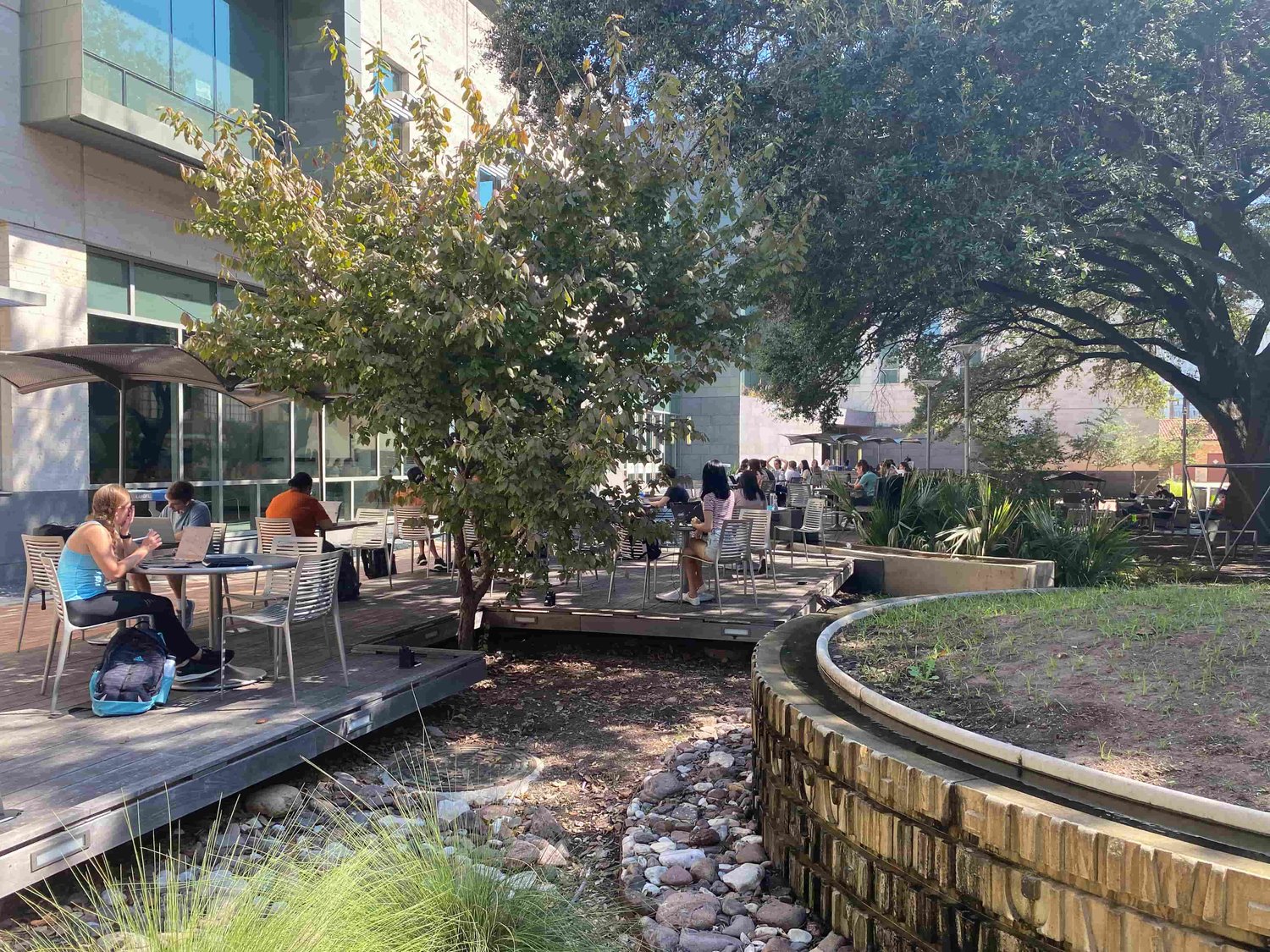 Campuses are built around the notion of a knowledge community – putting people together to induce the exchange of ideas, not only between student and teacher, but across an intricate network that touches all members. Hopefully.
And yet, it doesn't always work out that way. Many campuses lack a sense of place and most campuses underrate the importance of the "life between buildings," treating their public spaces as an afterthought, or as grassy backdrops.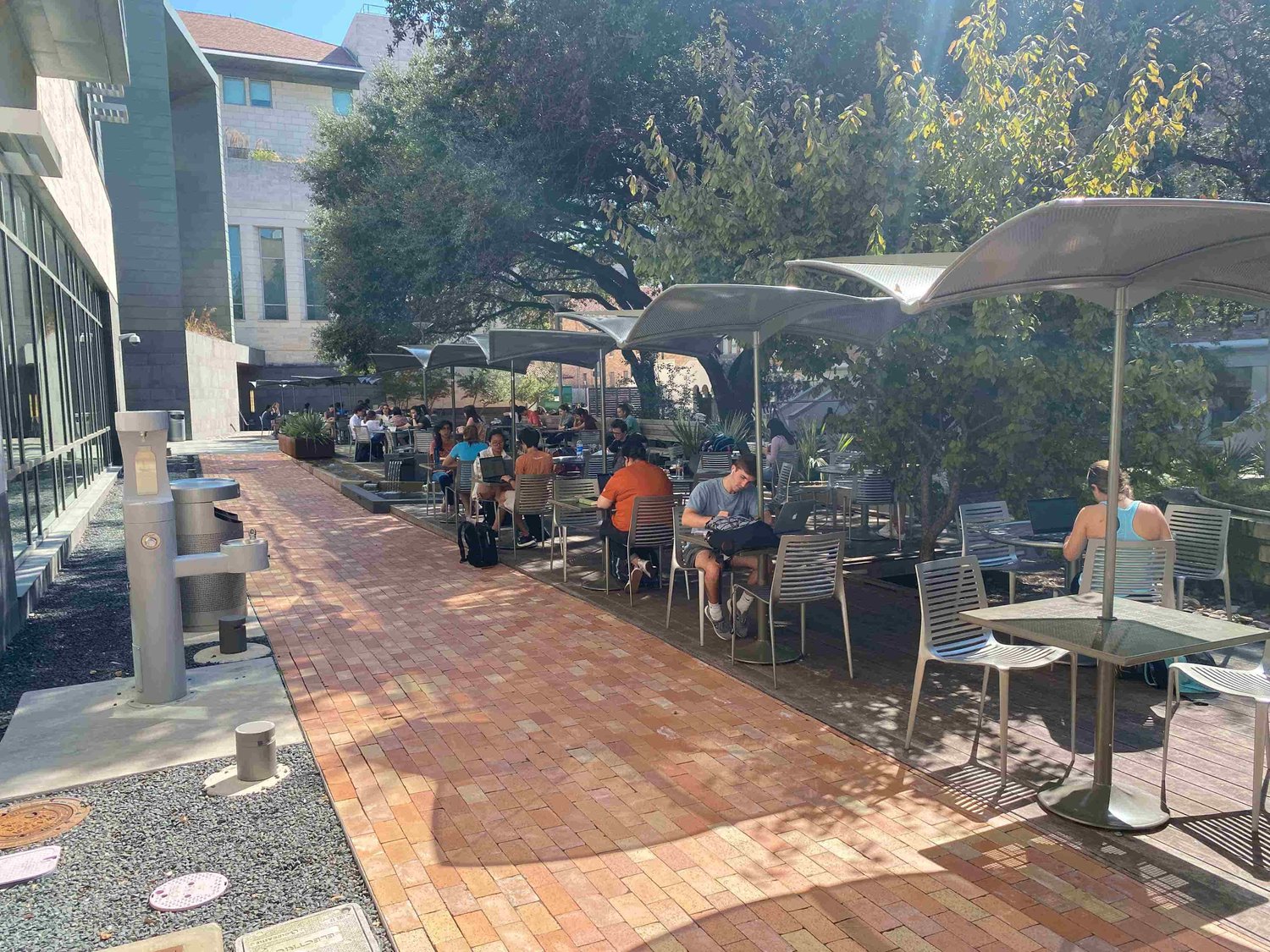 There's no excuse for this. The reasons for college administrators to make the most of their campus public realm are many and compelling:
Campus Sense of Place and Meaning
Colleges and universities should strive to create vibrant and memorable places that give deeper meaning to campus residents and bring them back years later for reunions, visits with children in tow, for future giving. Harvard University realized this when they incorporated Placemaking in the master planning of the new Allston Campus. They were aware of the danger that the new campus, although walking distance from the fabled Harvard Yard, would feel like another world with none of the soul and beauty that the older campus is so known for. Harvard continues its work with placemaking on both the Cambridge campus as well as the Allston campus.
Campuses as Innovation Districts
College campuses are the original "innovation district," offering a rich density of minds that are concentrated for maximum intake and output of thought. The assumption is always that these minds will meet in serendipitous encounters and campus meeting places. But the reality often falls far short and campuses need to be much more intentional about creating the collision spaces where these interactions can happen. Such encounters and casual meetings are much more likely when they are planned for, and the programming that goes along with placemaking is a powerful tool for campuses to use.
Creating Places of Diversity
Planning for interactions must also account for people of different races and cultural backgrounds on campus. In fact, one of the best ways to diversify the groups that gather — and to make campus places more inclusive – is to target specific audiences who might otherwise not feel welcome. To quote the Brookings Institution: "If public spaces are designed and managed for a monolithic "public" or "average user," they will likely be exclusionary and fail to achieve their goals of engendering social cohesion."
Activating Campus Places
There are so many campus spaces that are literally just hardware with limited purpose. To breathe life into a campus, a significant budget should be saved for programming to attract people, enliven the campus, improve bodies and minds, and actually put facilities to their best use.
Pictured below: an unbelievable piece of hardware, the porches at the University of Tampa's Plant Hall, sadly underutilized.
Campus Placemaking
This notion of a knowledge community is an old one – it goes all the way back to the establishment of cities as the most efficient way to capture talent, foster innovation, and grow economies. It applies to university and college campuses, but also research campuses, medical campuses, innovation districts, and other urban districts.
There are layers of social and civic infrastructure that are invisible to most professionals in planning, design, and development. When these layers are overlooked, we miss an opportunity to enrich lives and build community – or in the case of universities, the chance to create a knowledge community that fosters exchange and innovation and builds rich student life. This is where placemaking comes in, and why it's a valuable addition to campus planning and design.